Are you looking for the best caterer in Delhi?
We at Culinary Affaire aspire to take complete care of the unresolved difficulties of preparing the perfect meal for any and every special occasion – be it Weddings, Opening ceremonies, Cultural exhibitions, Corporate lunches, Barbeque Culinary Affaire is one of the best caterer in Delhi.
All you need to do is just contact us when you are ready and we will handle everything from there. From choosing your menu items to set up all necessary equipment required on-site; we'll ensure that everything goes as planned without any hassle!
You're the most important person in the world to us and we'll do anything for you.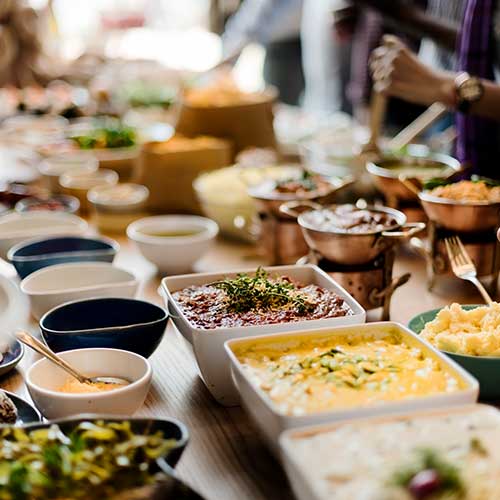 A well-set table is the most welcoming invitation for a perfect meal. Culinary Affaire, Best Caterer in Delhi provide you with a wide range of delicacies like finger-licking appetizers, assorted beverages and sumptuous meals which you can savor at your choice of occasions.
Fill the form now and we will reply asap.

Passion and food this is the recipe that fuelled my desire to craft a career in the food industry. At the tender age of four, in a playschool activity, I innocently painted the phrase "Chef Arjun" on a piece of cloth and it was in that moment that it struck to become a chef that I realized I would aspire to be a chef. Since then, I grew up spending time in the kitchen and watching Sunday cookery shows like Daawat, Khana Khazana, Zaike ka Safar etc.


Culinary Affaire was the brainchild of Chef Arjun Chadha who sought out to give the catering business a new meaning and effectively today; Culinary Affaire is an exclusive catering and hospitality service provider operating in Gurgaon & NCR Delhi. Set up in the year 2010, whether small or large gatherings, Culinary Affaire strives at providing high-end service and quality. We have successfully catered a wide range of cuisines ranging from Mughlai, Chinese, Thai, Italian and Continental at a number of events and parties.
Why Culinary Affaire is one of the best caterer in Delhi
Culinary Affaire has been one of the best caterers in Delhi for over a decade. With our experience, we are able to provide you with some of the most authentic dishes from around the world that will leave your guests satisfied and happy.
In order to be a successful catering company, it is crucial that we adhere to all health codes and safety regulations so as not to put any of our clients at risk.
We have undergone rigorous training on food preparation and sanitation requirements; these are just two reasons why Culinary Affaire can offer you quality services without question or hesitation!
We cater for a wide range of events including weddings, receptions, birthday parties and also corporate occasions. We offer you complete package which includes venue selection & decoration to make your event memorable.
What types of catering we do
Wedding Catering
As the most awaited day of your life arrives- the wedding day, you start getting cold feet on how to turn those little special moments into life long memories.
Birthday Catering
We have always something unique and amazing to make your birthday super awesome. Plan your birthday with us, because we always love to serve the best flavors.
Themed Catering
We at Culinary Affaire believe that the client is our God thus you and your needs always come first. Through custom catering we aim at making the menu, service and the presentation of the food according to a customer's specification.
Private Catering
Wheather its a open event or a private we also catered the best. Planned over more than 70+ catering in Delhi/NCR. We delivered the best and thats why we have a great reputation in the catering business.
Corporate Catering
Want to host a corporate party or on the lookout for an international dining experience? Then, we at Culinary Affaire are at your service. Whether you are inviting potential clients or important delegates corporate lunches are a perfect opportunity to network with people who are important to your business.
Party Catering
By hiring our catering services at any family, social or corporate event, you will find that your quality standards have been met and matched. From a book discussion to a cultural exhibition, a product launch to conferences, seminars and workshops, our outstanding menus and premium facilities will enhance each of your events.
Why to hire the best caterer in Delhi?
If you're hosting a party, then you should hire the best caterer for the job. There's nothing worse than having a terrible meal at your event! A good caterer will know how to make sure everyone has a great time and gets exactly what they want to eat. Catered events are also much less stressful because someone else is taking care of all the cooking and clean up. With these benefits, it's no wonder that many people prefer catering over doing everything themselves!
We as the best caterer in Delhi have a reputation for excellence and reliability. Its reputation is built on a proven track record of quality service. Besides offering the best cuisines in Delhi, We have a long list of satisfied customers.
And we are here for you to cater the best catering service. Connect with us now.